Overview
An effective negotiation process is an essential element in value creation for an organization. Whether you are seeking additional resources, purchasing something or closing a contract for your company, your success depends on your ability to negotiate well.
Every organization can benefit from improved negotiation skills. Whether you are in hospitality, pharmaceutical, healthcare, manufacturing, distribution/warehousing, aerospace, defense, IT/tech, accounts receivable, retail, wholesale, e-commerce, or any other industry, keen negotiation skills help to enable corporate alignment and sustainable business relationships.

In today's competitive business world and difficult economy, having effective negotiation strategies can create long-term relationships with customers, management or your suppliers.  A win-win negotiation strategy means that both parties have mutual respect, long after they have inked the deal. There are no losers when a negotiation is done right.
This course will help participants develop a truly engaging and responsive negotiation style, leading to positive results for you and your organization. It will give you an advantage in today's challenging business environment.
The Negotiation Skills: Effective Strategies for Success training course uses a structured and practical approach and is aimed at helping participants navigate the basic rules of negotiating and apply the strategies immediately.
Training Methods
Incorporating experiential learning methodology, participants will learn from:
Lectures with PowerPoint presentations
Videos & Discussions
Role Plays
Activities & Games
Live exercises
Course Outcomes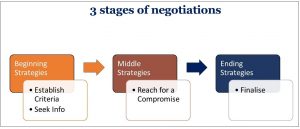 After the course, participants will be able to:
Understand the 3 stages of negotiating
Learn 20 different negotiating strategies
Develop strategies for future negotiations
Apply the strategies immediately
Avoid pressure points in negotiating
Build up their power factor
Who should Attend
Executives and Managers
Sales and Sales Support personnel
Department Heads / Team Leaders
Customer Service personnel
Decision Makers
Anyone who wants to improve on their communication skills
Duration of Training
2 days
Note:  A special version of this course caters for negotiations in Customer Service. 
Request for Course Outline and more information
Course Code: GP-LS04