Great content means nothing if it is not packaged, presented and delivered in an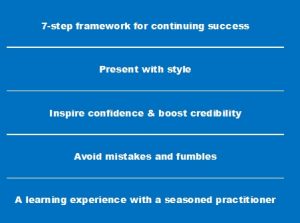 engaging way. Whether your group consists of seasoned professionals or young individuals new to giving formal presentations, this course can raise the level of all who attend.
Many talents are hired for their competency in their own area of expertise. When their expertise is coupled with great presentation skills, they become a very effective force for their organization. Good presentation skills inspire confidence in your team, your customers as well as your leadership. No more sleepy eyes and confused looks. It is evident that this skill is highly relevant to personal careers and organizational development. It also increases credibility for the individual as well as for the organization.
The Effective Presentations in 7 simple steps training course is based on the principle of using a structured process, developed by the trainer that will help participants prepare and deliver engaging presentations.
Course Outcomes
At the conclusion of the course, participants will be able to
● Overcome the fear of delivering presentations
● Set clear objectives which will influence their presentation flow
● Organize their thoughts in a clear and structured manner
● Improve their presentation flow by using signposts
● Master methods to maintain attention
● Be aware of non-verbal communications
● Understand the importance of vocal variety
● Manage questions and objections effectively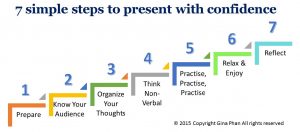 Who should Attend
● Managers
● Sales personnel
● Technical Professionals
● Project Managers and project leads
● Engineers, Quantity Surveyors
● Customer Service personnel
● Pre-sales personnel
● Anyone who wants to improve on their presentation skills
Training Methods
Incorporating experiential learning methodology, participants will learn from:
Lectures with PowerPoint presentations
Videos & Discussions
Activities and Games
Live exercise
Request for Course Outline and more information
Course code: GP-LS01