Overview

The English language is heavily used in cross-border communications as well as in the local business community. The ability to transact in this international language of communication helps the company to remain competitive and increases business opportunities in today's globalized environment.
Personnel in a company are often hired for their competencies in specific areas.  When this competency is coupled with good language skills, the person and the organization become a very effective force in the business landscape.
According to Internet World Stats*, English is the top language used in the World Wide Web, which means more online information is available to people who can read English.
A good command of this important life-skill is an asset. It helps you communicate effectively with your international counterparts, and building long-lasting relationships with them. English is used in the workplace in letter and report writing, meetings, giving presentations, negotiations and when providing customer service – be it face to face, written or through email.  Being able to communicate effectively in English is a major factor in career development.
The Effective Workplace English course uses a structured process and is aimed at helping non-native speakers navigate the basic rules of the English language and apply it at their workplace.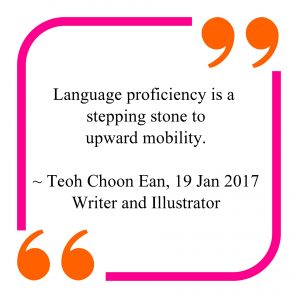 Course Outcomes
After the course, participants will:
Communicate clearly and correctly in English
Improve listening skills in English
Be able to craft professional business letters and e-mails.
Develop skills in correct pronunciation
Be confident in daily conversations in English
Avoid common or embarrassing mistakes in English
Duration of Training
2 days
Who should Attend
Executives and Managers
Customer-facing staff
Young professionals
Customer Service personnel
Office support personnel
Anyone who wants to improve on their English
Training Methods
Incorporating experiential learning methodology, participants will learn from:
Lectures with PowerPoint presentations
Videos & Discussions
Role Plays
Activities & Games
Live exercises
Request for Course Outline and more information.
Course Code: GP-OWS01