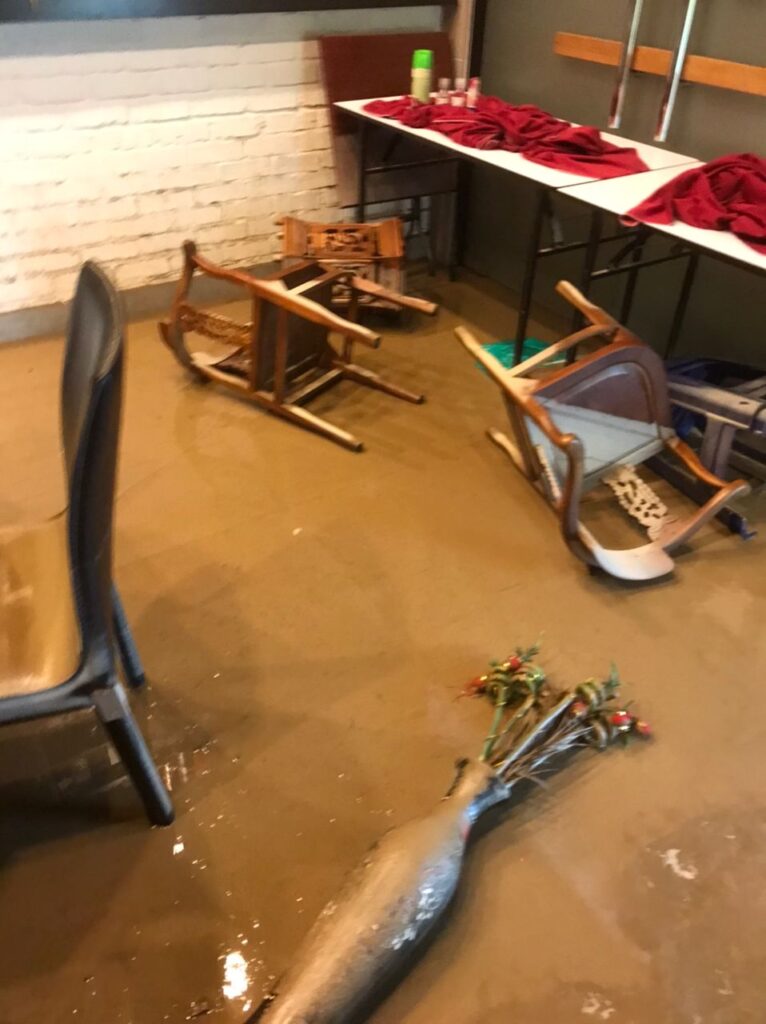 Some may have read this on my social media channels but I thought I'll put this in a blog post so that I can easily find it again in the future.

18th December 2021 – it started raining and raining and raining. It didn't stop until the next morning. News of floods starting from the Klang area which soon also affected other parts of Shah Alam and Subang Jaya. This would be one of the greatest floods in the Klang Valley since 1971. The cause of the storm is a mini typhoon named Tropical Depression No. 29. This is the first time an eye of a storm developed in the Straits of Malacca.
19th December 2021 – The scene at my husband's office after the flood receded. He owns a small contracting business and his team is not big. in comparison to other parts of the valley, it is definitely not as bad. He had provided living quarters to some of his workers on the higher level and they managed to evacuate at 2am in the morning. Prayers and thoughts are now for those who have suffered great losses, or are still cut off.
The cleanup
And so the clean-up began. With a small team, our family came in to help. There were many lessons learned. I want to share 5 here (in no particular order).

1. Mud gets into everywhere – every crevice, nook and corner.
It is literally back-breaking trying to reach far into those little crevices. But if you use a little water and a small squeegee, it is easier. There are many lessons here.
(a) Pay attention to the little stuff, the details. You may not be doing a complete job if you ignore some of them.
(b) Use the right tool for the right job. It's not always the biggest tools that are most effective.
(c) You need to get your hands dirty to keep things clean.

2. Teamwork works.
You really need a team. There were just a few of us but the work was much lighter when we all did what we could. So much was achieved in one day when we all rolled up our sleeves and pants and got to work.

3. Keep a good attitude.
We can lament all we want about the losses and damage. But what good will it do? So, I started humming an old 1970s tune, then I turned the radio on to brighten up the atmosphere. I noticed I could make the work lighter this way.

4. Just like everything else, there is a logical sequence.
If the cleaning is not done in the right order and you end up dirtying something that was cleaned before. I wanted to clean the floor in the pantry area, but when I opened the cabinet doors, I realised I had to clean the cabinets first. They were full of mud and it all has to be removed before I tackle the floor.

5. A sense of humour is important.
It really helps when you keep your sense of humour. There were stuff that floated up and landed in odd positions, trays filled with water, and lost and forgotten items found. It is good to just laugh about it.

I hope none of you will ever have to experience a flood or need to clean up after. But if you are ever in the aftermath of a crisis, I hope these lessons help you.

We haven't counted our losses yet. Lots of goods damaged, vehicles submerged but we are relieved that there were no injuries

Let's continue to pray for and send help to the people who are still affected, or have lost their homes and property.

---
About the Author: Gina Phan is a consultant and trainer with Zinfinity Consulting. She currently conducts courses in workplace performance skills. Click here to know more about her.
---
#floods #cleanup #lessonslearned #crisis #gp
Share this article with your friends.