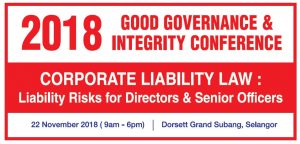 Learn | Get insights | Understand | Detect | Report
Date: 22 Nov 2018
Venue: Dorsett Grand Subang, Selangor
Among the topics covered are:
Bribery, Fraud & Malpractice
Corporate Governance
Consequences of Corruption
ISO 37001 Anti-Corruption Management Systems
Offences Under MACC Act 2009
MACC (Amendment) Act 2018
Whistleblower Protection Act 2010
Corporate Liability Law
Anti-Money Laundering, Anti-Terrorism Financing & Proceeds of Unlawful Activities Act 200
Risk Management
Speakers include:
YBhg. Dato' Shamshun Baharin Bin Mohd Jamil, Deputy Chief Commissioner (Prevention), MACC
YBhg. Dato' Abdul Samat Bin Kasah, Former Director of Community Education Division, MACC
Tuan Thangavelu A/L A. Suppiah, Deputy Public Prosecutor, MACC
Puan Nor'afiza Saim, Senior General Manager, Management System Certification Department, SIRIM
SSupt. Farizal Muzaffar Hafiz Bin Abdul Wahab, MACC
Tuan Mohamad Zamri Bin Zainul Abidin, Chief Senior Assistant Commissioner, Director, Anti-Money Laundering and Forfeiture of Property (AMLFOP) Division, MACC
Puan Shuhairoz Mohamed Shukeri, Director of Quality & ISO Management, Immigration Malaysia Headquarters
Download the conference information or Phone/WhatsApp: +6016 3456 560
Organised by Malaysian Integrity Academy.
Share this article with your friends.