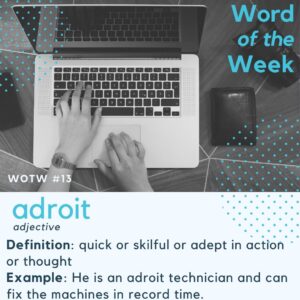 We are starting a series of 26 adjectives.  This week's adjective is brought to you by the letter 'A'.
Adroit is used in formal writing, mostly. Its synonyms include: skilful, agile, deft, masterful, polished and practised.
Example sentences include:
She showed us an adroit way to solve the problem in product design.
Right after graduation, I felt young, bright, adroit, and resolute.
I follow this podcast series which aims to show a person how to become adroit at the greatest skill of all, the skill of living.
Wind instruments produce special effects in chamber-music, and need an exceedingly adroit technique on the part of the musician.
Adroit management of the nuclear power plant operations is of utmost importance for us all.
The teacher is adroit in managing the whole class of very excited children.
Although Adam proved quite adroit at oil painting, he was never able to sell any of his pieces.
Share this article with your friends.