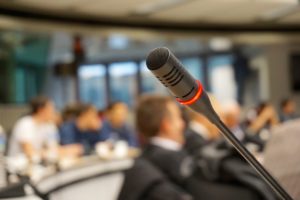 CREATIVE & PRACTICAL SALES PRESENTATION SKILLS




— 7 Simple Technical Techniques for Sales Professional —
Training Date : 23 & 24 April 2019 (Tue & Wed), 9.00AM – 5.00PM
Training Venue : Empire Hotel Subang
Principal Trainer : Gina Phan, IPMA (UK), HRDF Certified Trainer (Cert No. 4413)
Download registration form now 
WHY IT IS IMPORTANT?
Great content means nothing if it is not packaged, presented and delivered in an engaging way. Whether your group consists of seasoned professionals or young individuals who are new to giving formal presentations, this course can raise the level of all who attend. Talents are often hired for their technical competency primarily. However, when their technical expertise is coupled with great presentation skills, they become a very effective force for their organization.
Combating glazed eyes and confused looks is something those who deliver presentations often experience – whether it is talking about financial data, bits and bytes, charts, graphs, statistics, or processes.
Good presentation skills inspire confidence in your team, your customers, as well as your leadership. It is evident that this skill is highly relevant to their career and their development. It also increases credibility for the individual as well as for the organization.
This course will help the participant deliver presentations that are engaging and persuasive. Participants will have opportunities to apply what is learned during the class in the live exercise.
LEARNING OBJECTIVES
Overcome the fear of delivering presentations
Set clear objectives which will influence their presentation flow
Organize their thoughts in a clear and structured manner
Improve their presentation flow by using signposts
Master methods to maintain attention
Be aware of non-verbal communications
Understand the importance of vocal variety
Manage questions and objections effectively
Download registration form now 
WHO SHOULD ATTEND 
IT Professionals, Software development personnel
Project Managers and project leads
Engineers, Quantity Surveyors
Technical Customer Service personnel
Technical pre-sales personnel such as automotive, medical instruments etc
Anyone who wants to improve on their presentation skills
REGISTRATION, COURSE FEE, & MORE INFORMATION
Complete the registration form and email to mia@integrity.net.my
HRDF Claimable: Yes
MIA Corporate Member course fee is RM1,680.00 net per person.
Non-Member course fee is RM1,880.00 net per person.
Limited seats. Registration is based on first come, first served.
Course fee is payable to Account No. 3205987008, Public Bank in favour of MALAYSIAN INTEGRITY ACADEMY SDN. BHD. via Interbank Giro (IBG) / online transfer / cash deposit,
A copy of IBG/transfer note/bank-in slip should be emailed to mia@integrity.net.my .
MIA reserves the right to change/postpone/cancel the date/venue/facilitator/content of the program without prior notice to participants. However, every effort will be made to inform participant of the changes, if any.
 MIA shall not be responsible for any additional expenses incurred by any participant(s) in the course of attending the program.
THE ORGANIZER
Malaysian Integrity Academy (MyCoID: 1231014K)
88M, Lebuh Turi, Taman Chi Liung, 41200 Klang, Selangor
Email: mia@integrity2u.my / mia@integrity.net.my / mia.integrity@gmail.com
Siti Fatimah (+6017 4507 554), Mohammad Aliff (+6018 2464 509), Mark Tan (+6016 3456 560)
Share this article with your friends.