In Part 1, we introduced Dr Robert Cialdini's 6 universal principles that a skilled persuader needs to know:
Reciprocity
Scarcity
Authority
Consensus
Commitment & Consistency
Liking
I explained the first three in Part 1.  Let's see how the last three are used by marketers and businesses.
Consensus
Also referred to as Social Proof.  Your customers have minds of their own. But the truth is, the decision-making process is often unconsciously influenced by how popular your products and services are. It's a psychological fact that people like to follow other people.   This is especially true when they are undecided and would like to see how the rest of the world think. People tend to follow what they see other people are doing.
Just think back about some laughable fashion trends that you could not figure out why it happened. You understand this now.
Many

 web pages have Social Media 'share-and-like' counters, like the one shown in the picture.  The owner of the website would have an analytic tool that provides more meaningful statistics for website traffic.  This counter helps influence visitors to buy into the message of the page, as well as to 'like' the page.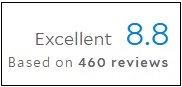 Some businesses hire celebrities to endorse their products. Not all businesses can afford it though.  The social media, today,  is a very powerful influencing platform.  Your customer's ratings and reviews are your greatest tools.  Encourage your customers to write reviews, check-in at your place of business, or use your hashtags.
As mentioned in Part 1, please remember to thank people for their good reviews and take corrective actions when there are complaints.
Commitment & Consistency
I am sure you would like to deal with people who can make a commitment and stay true to it.  So do you customers.  Make it a point to make your commitments public or in writing, and be consistent with the way your commitments are handled to all your customers.
Here are some examples of how businesses have used this:
a)  30 minutes delivery or your pizza is free  (Wow! Their delivery process must be efficient for them to guarantee this.)
b) Money back guarantees (Wow! Their products must be good. Customers are happy. I can't go wrong with this order.)
c) 11 herbs and spices  (Not 10, not 12. They are very consistent with their recipe globally, right from Day 1.)
The guarantees are made publicly in their advertisements and written clearly on their websites. For some, it is the anchor of their branding.  As it is public, the company will have to be consistent in the way it is done.  Likewise, in other business, an agreement or a policy statement is written out to list down the business's commitments and deliverables.
You can also apply the same strategy to your customers. Studies show that if people commit to something in writing or verbally, they are more likely to honour it.  Ask your customers to sign an agreement or a policy statement or acceptance of your quotation.
When communication, try to get them to say "Yes" to you. Instead of saying "Please ask me any questions if you are not sure of the product features.",  it is better to say "Will you please ask me questions anytime you are unsure of the product features?"
Liking
The reality is that we prefer to say "Yes" to people we like.  Why is it that we can build rapport with some people more quickly than others? Most of the time, it's because we believe they are similar to us in some ways.
If you are a sales professional, this element of 'liking' is the first step in the buying journey for your customer. In my Consultative Sales Technique course, participants learn that you need to first, build trust by using the Associating Methods. This requires you to express propriety, establish credibility, find commonality and lastly, express intent.
Non-verbal signals like your body language and the way you speak (be it verbal or on electronic media) has an impact. The topic on body language is one module in my courses and it warrants a separate article. For now, it suffices to say that your smile is the best non-verbal signal ever!
If you are in charge of your business image and branding, be aware what your brand's tone, the image you project and how your business connects with the audience you want.  Make your customers feel good about your brand.  Needless to say, you have to be consistent across all your messaging channels.  For example, you cannot build a family-oriented image if you use images for young people navigating the city streets with a latte in their hands on your social media channels while using images with happy families in your print advertisement.
Some businesses publicise their corporate social responsibility programmes so much that it's near impossible to dislike them. Case in point would be the Ronald McDonald House Charities.  Even if you do not like fast food, you like the fact that this giant corporation has a heart for people in need.  Another example would be the great television commercials that Petronas produces for the festivals in Malaysia. Every year, we wait for them with great expectations because they never fail to invoke the warm feelings for love, friendship, or patriotism.
At the same time, these companies are very committed and consistent about their message to the public.
Think over these 6 principles. You can practise and experiment different combinations in your sales and marketing efforts.  However, your top priority should always be to deliver great products and customer experience.  You need to be authentic and passionate about caring for their satisfaction.
---
I would like to hear from you on ideas these 6 principles have given you, or have you experienced something as a customer that you would like to share here.   Tell me by leaving a comment at the end of the article. 
---
About the Author: Gina Phan is a consultant and trainer with Zinfinity Consulting. She currently conducts courses in business communications, leadership skills, consultative sales and consults in library automation. Click here to contact her or follow her on Facebook.
(Feature image used at the top of this article is by Elle Ritter, licensed under CC0)
\#sales #persuasive power #marketing #business success  #gp
Share this article with your friends.