Are you a tech professional who has to explain your knowledge and recommendations to others? Perhaps, in a technical report, in a document, or a presentation in support of a business proposal, a project go-ahead, or to request for funding? Being able to communicate all these effectively affects your ability to get your ideas accepted, approved and implemented.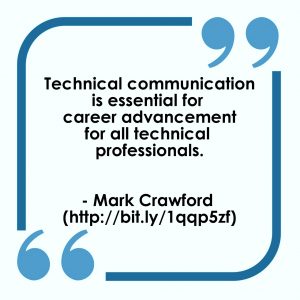 Have you ever felt that someone more technically-inclined should have been promoted at work but the company decided to select someone else who 'could talk well'?  The truth is that persuasive communicators often get the top jobs.
Many years ago, a couple of bank officers came to my office to introduce their trade financing facilities. These ladies presented themselves professionally and came across as knowledgeable in their jobs. As my background is in software technologies, I had very little understanding of banking terminology. So, after a short while, I was totally lost. They were using terms that were foreign to me – Whoa! Wait a minute! What are you talking about?  Say "device", I think of gadgets and 'instruments'  belong in an orchestra.
Is this is how people outside our industry may feel when they listen to or read our explanations? It is a common situation – we get so used to our own lingo and we fail to realise that our language can be quite challenging to others. My own lesson came many years ago when I was explaining to a group of friends on how they could use the spreadsheet software to manage their list of songs (pre-iTunes era). I was focused on the how-to-do-it part. At the end of my explanation, one of them said,  "I have no idea what you are saying."    🙂
Be it documenting an IT support ticket or writing an e-mail message, your communication skills are critical to boosting relationships and improving customer satisfaction level.  In other words, it is your responsibility as a technical professional to communicate your technical knowledge in a way that is easily understood and remembered.
What is the biggest tip for better communications?
BE MINDFUL
Be intentionally mindful when you are the recipient. In any communication, there's a sender and a receiver of messages. The most important communication element is not how you craft your message — It's how you receive the message.
You know the frustrating feeling when you have told someone something and he/she didn't seem to have registered it. In any conversations that you have, make a conscious effort to listen completely.   Most people listen to respond. Even before the other person has finished talking, our minds race to try to find an intelligent and purposeful response. When you do this, you will miss a lot of information.  Not only would you have lost your attention to what is being said, you may also have overlooked important non-verbal signals.
I recall a conversation with a potential customer. He was complaining about how many of the new-generation software would not display data in the way he preferred to see it. The world had moved on to newer forms of data display.  Some people around us started to interrupt him and defend the software features. He was getting agitated fast — you could hear it in his speech pattern which was getting faster and higher in pitch.  I spent the time maintaining eye-contact and letting him finish what he wanted to say.  In the end, he thanked me for listening. He just needed reassurance that his complaint was reasonable and that the 'old ways were better'. He did not really need a response from me. I believe our willingness to listen had an impact when he awarded the contract to us.
Sometimes, listening is easier said than done. I've encountered people who have a tendency to do a 'memory dump' each time they talk to me.  And each time, patiently listening to what they have to say has had positive results. I'll share more in future articles.
Be mindful when determining a response. You can determine a lot about a person from the tone of voice, the pace of speech, as well as body language.  Some people would prefer a quick answer with as little detail as possible; while others require a complete road map. With the former, they are concerned with the results. With the latter, they need to fully understand the process before making a decision.  If you do not match your response style well, it will create dissatisfaction and frustration on both sides.
Recently, a couple of my trainer colleagues were asking their web designer if they could use a different web user interface for posting events on their websites. When she started to explain how it could be done, they looked bewildered.  All they NEEDED to know was "Yes, there is a way to do it." When she finally said that, their sighs of relief were quite audible. 🙂
In my Personality Groups training module, participants learn how to use non-verbal signals to quickly determine the best way to respond which in turn, helps create trust and improve rapport.
Be mindful of the level of understanding. Most tech professionals are comfortable when communicating with another technically savvy peer. After all, they understand what we mean and we don't have to water-down our explanations. But we are often required to communicate with a variety of audience or readers. Based on their vocabulary, you can deduce their level of understanding of the topic.  Be mindful of the other person's ability to understand what we say.  Always organise your information for the other person's benefit.  When talking with people who are not technically-inclined, try not to talk above their level of understanding.
Back to my song list story, my mistake back then was to assume that my friends were familiar with the use of spreadsheet software. If I had been mindful enough to ask them first, I would not have lost them soon after I started my explanation. Some were too polite to interrupt me, some were too embarrassed to admit they don't know how to use the spreadsheet software and there I was, so happy that I could help them with my know-how (or so I thought).
Watch this video and tell me what you think (in the comments section).
(Source: youtube)
Be mindful when you write. The same applies to written communications. When you are writing cover letters, reports, or e-mail messages, it is important to know who will be reading it. Ask yourself if the reader is a technically-inclined person.
Always provide a summary, conclusion, and recommendation either in the cover letter or in the initial pages of a report. Details should be inserted after that or as e-mail attachments which will help the readers who want to look at the specifics. Many make a mistake of organising their letters or reports like essays.
Many of us go about our daily lives tackling different tasks. We are so focused on processes and our expertise in analysis and problem solving, that we often forget that the communication of our knowledge helps us achieve our objectives.
Being mindful is about listening and understanding your audience. Speak and write for their benefit. When we do that, we can structure our communication to be both efficient and effective.
___________________________________________________________________________________________________________
I hope this article has helped you. I would love to hear from you. Please use the comments section and leave me a note. I will be writing on how this tip are applied in practical terms. Follow this blog to stay up-to-date.
[Update 18 Dec 2017: Read the second article on this topic.]
___________________________________________________________________________________________________________
About the Author: Gina Phan is a consultant and trainer with Zinfinity Consulting. After a successful career in the software industry, she currently helps technical professionals improve communication skills with her training courses. She also consults in library automation projects. Click here to contact her or follow her on Facebook.
(Feature image used at the top of this article was derived from an original by Michael Schwarzenberger; licensed under CC0)
#communication tips #business communications #tech professionals  #technical professionals #business success  #gp #communication skills for technical professionals
Share this article with your friends.